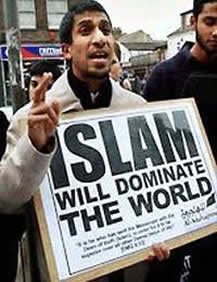 About Islam
What is Islam?
While the Catholic Church was born from the side of Christ, God made man, on the Cross, most false religion were founded by men whom one would not be happy dating one's daughter. Luther, for example, was a foul-mouth, impure, neurotic ex-monk. The Church of England was founded by a syphilitic despot for his own carnal ends, and Mohammed, were he alive today, would be on the Sexual Offenders Register, if not actually serving time for paedophilia ... that is if he was not banged up in the Hague for war crimes.
Three Highly Recommended Books
If you are serious about understanding Islam and the satanic hold that this false religion has over its adherents, the following books are "must reads": 1) Answering Islam: The Crescent in Light of the Cross - this book is a must for anyone concerned about defending the Christian faith. Dr Geisler and his coauthor, a former Muslim, give a thoroughly comprehensive and lucid examinations of Islam
; 2) Twenty Three Years: A Study of the Prophetic Career of Mohammad
- this book is written by Ali Dashti, a Muslim scholar and a former minister in the Iranian government. The book was considered so dangerous that it was smuggled out of Iran with orders for it to be published after his death; 3) Politically Incorrect Guide to Islam (and the Crusades)
- This book is for those who prefer their whisky straight. Robert Spencer has raised "telling it like it is" to an art form.